Autumn's the perfect time to check out your favourite retailers and find out what new products they have in stock. At JML Direct, the home of good ideas, there are a couple of innovations for the DIYer that are definitely worth a look.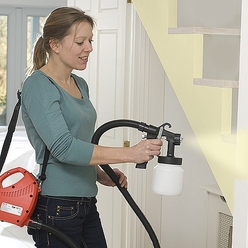 The Paint Sprayer Pro gives a professional airbrush finish, allowing you to spray swiftly and accurately, covering large and small surfaces inside and outside the home.
With 360-degree spray technology, it is perfect for painting hard-to-reach areas and will help you decorate walls, ceilings, decking and other surfaces with minimal effort. Previously priced at £59.99, it is now available at £49.99.
The Aris Cutter is designed for fast and easy wallpaper cutting. It features specially designed cutting blades that enable precision cutting along ceiling edges, skirting boards, doors and window frames. It also allows you to cut wallpaper at corners and alcoves with ease. Previously costing £29.99, the Aris Cutter is now priced at £24.99.
• Don't forget, this retailer also features a multibuy discount. buy more than one of any product and get 20 per cent off all subsequent products.
Check out all the products on the JML Direct website here >>