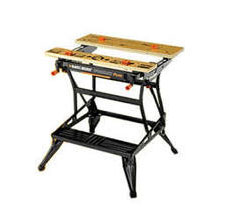 Here's your chance to get some serious money off the Black & Decker Workmate at Focus DIY.
Check it out on the Focus DIY website here >>
Intended for use as a workbench, bench tool stand, vice or sawhorse, it features an advanced one-handed clamp system that allows clamps to be adjusted together or independently.
The maximum table width with jaws open is 541mm and its clamping system means it will hold virtually anything.
A front jaw swings up for vertical clamping, increasing flexibility to clamp odd-shaped objects, while adjustable swivel pegs and jaw retention grooves provide clamping versatility and reliable material hold.
The workbench also folds flat for compact storage and ease of transport and includes anti-slip rubber feet.
The Black & Decker Workmate was originally priced at £109.99 but is priced at £59.99 for this weekend only – the offer ends on Monday September 20.
With a saving like that you might be thinking of treating yourself – or even about some early Christmas shopping. Only 99 days left, you know…