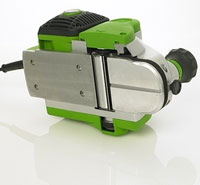 What's on offer at innovations specialist JML Direct in October? This retailer tells us that its range now features a revolutionary new tool no DIY enthusiast should be without.
It says the Exakt Sander Planer produces precise, professional results every time for sanding and planing tasks. Its high-speed steel planer drum rotates at 16,000 rpm, making light work of wood and giving a faultless finish of up to 2mm on every pass.
Check out JML's Exakt Sander Planer here >>
The depth is adjustable too, simply turn the unique depth adjustment knob and you're sanding and planing, accurately and easily.
This tool also has its own dust extraction system to remove dust and shavings while you cut and plane. Alternatively, connect the Sander Planer to your vacuum cleaner, using the universal vacuum connector for perfect results and no mess.
The Exakt Sander Planer is just one in JML's range of Exakt tools – check out the rest here.
And don't forget this retailer's multibuy discount – buy more than one of any product and get 20 per cent off all subsequent products.