UPDATE: As of December 23rd, B&Q reports that only seven people have entered the Christmas lights competition. With £500 up for grabs, the odds sound pretty good so enter here!
Your best Christmas memory – or your neighbour's most offensive Christmas lights – could win you a £500 gift card in one of two seasonal competitions launched by DIY giant B&Q.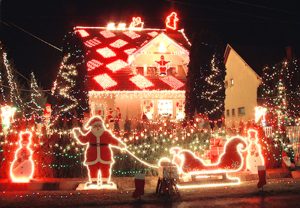 Both competitions opened late last week and will run until January 6th next year, ending to coincide with the traditional removal of Christmas decorations. Top prize in each is a £500 gift card, with a £250 card for the runner up in each.
In the first competition, you're invited to share the secret of your Grandma's special pud or tell about the time you finally beat Auntie Doris at Scrabble by writing about either your favourite Christmas memory or your favourite Christmas recipe.
The second one gives you the chance to get your own back against the neighbour who's covered the front of their house with more coloured lights than Heathrow Airport by sending in a photo or two. Or lots. Plus a few words about the horror of it.
Actually, technically it's a competition to find the UK's best and worst Christmas lighting decorations, and you can triumph with a picture of something tasteful and a short note about how much you like it – but do you really think that would have a chance of winning compared with the sort of monstrosities we've all seen?
Both competitions have terms and conditions, which you can find on the B&Q site, but the main things you need to know are:
Entrants must be at least 13 years old and live in the UK – anyone younger than 18 needs parental consent to enter
The winners will be contacted by email, so make sure you give them a valid one as you only have 14 days to reply or lose the prize
No purchase necessary
If you win they might use you in promotional activity (you can imagine the press releases easily enough, can't you?). And they'll own your photo or writing.
All the usual stuff about no B&Q staff, proof of posting is not proof of receipt, no correspondence can be entered into. You know the routine.  Check on their site for the precise details.